reportajes
[ Volver al artículo en castellano ]
The four young actors who play BILLY ELLIOT share with their role the passion for dancing
05/02/2009
Brad Wilson, Fox Jackson-Keen, Tanner Pflueger and Tom Holland alternate weekly to play Billy Elliot in the Victoria Palace Theatre. About to celebrate its fourth anniversary, the musical by Lee Hall and Elton John still continues captivating audiences.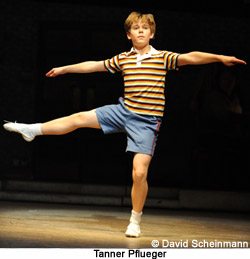 BILLY ELLIOT - THE MUSICAL is one of the musical shows that have made a deeper impression on West End audiences in recent years. Based on the film written by Lee Hall and directed by Stephen Daldry, the touching story of a child who struggles to achieve his dream has totally captivated the public that fills up the Victoria Palace Theatre every night since the show opening in 2005.
Undoubtedly, much of the success of this show lies on the talent of the young actors who play the role of Billy Eliot. Currently they are Brad Wilson, Fox Jackson-Keen, Tanner Pfluleger and Tom Holland. Before them, another sixteen children have performed the lead role in the West End production of BILLY ELLIOT. They all follow the footsteps of Jamie Bell, the actor who first played this character on the 2000 film.
Casting the children who could take on this demanding role has been a very complex process since the beginning. There have always been children playing their roles extremely well on West End shows. From Gavroche in LES MISÉRABLES, to the children of MARY POPPINS, the seven children of captain Von Trapp in THE SOUND OF MUSIC or OLIVER!, to name just a few recent examples.
Because of the long tradition of the genre in the country, there are many specialized schools that train children in the disciplines of singing, dancing and acting. BILLY ELLIOT, however, is a different case. The role of Billy is the absolute star of the show. The actor who plays the role has to perform, sing and dance, (not just ballet, everything) on a very high level. In the film, it was no necessary for Jamie Bell (who was then fourteen years old) to sing, because the movie was not a musical.
Another characteristic that must meet the boys who play Billy Elliot on the stage is a great stamina and resilience, and they must be absolute professionals, because in theatre, unlike cinema, there is no possibility of repeating a scene if something goes wrong. Not to forget the physical requirements of the character: boys aged 9 to 13 years, with no broken voices and maximum height is 5ft.
To find the kids who had the skills needed to play Billy, the creative team of the musical organized a nationwide search with the aim to meet every talented child. It was a long process that was completed with an intensive training for several months in a school set up in Leeds. Since then, auditions are always being held to find new actors who can play the lead role of the show.

Brad Wilson as Billy Elliot in one scene of the show
Brad Wilson, Fox Jackson-Keen, Tanner Pfluleger and Tom Holland went through these demanding castings and now they´re alternating to play Billy Elliot on the stage of the Victoria Palace. They share with their role the passion for dancing and they are totally devoted to their work. Despite their youth they already know how it feels to receive the most enthusiastic applause from the audience at the end of each function.
Brad Wilson is 12 years old. He started dancing when he was 9 years old. Since then, he has studied ballet, tap, jazz and comtemporany dance. He has danced in many competitions and won many medals and trophies. He was invited to audition for Billy Elliot over two years ago by his dance teacher, and since then he have been training up in Leeds before moving to the Billy Elliot House in London.
Fox Jackson-Keen thinks he is very lucky for having done all the amazing things he´s done in his 13 years. Among them, he has represented London in Gymnastics at the UK finals twice, danced at Sadler's Wells, appeared in TV shows such as Hyper Drive and The Bill and have filmed in Cannes and Camberwell. Fox is enjoying his time at BILLY ELLIOT enormously, and has really benefited from the support of the huge team of the show.
Tanner Pflueger joined the cast of BILLY ELLIOT on 29th September. He is 13 years old, and he loves to dance. It all started when he was 7 years old and his cousin Brandi asked him if he wanted to join her classes rather than watch her. Tanner thinks that going along to the class
was the best decision he ever made. He has taken classes in a wide range of styles from tap to lyrical. He has also won several dance competitions.
Tom Holland, 12 years old, joined the cast of BILLY ELLIOT on 8th September. He started dancing at a hip hop class on Saturday afternoons, and was spotted at a local show case – and was invited to audition for Billy – after which they asked him to start taking ballet classes – which he did in our garage at home. Finally, 8 auditions and two years later, he got cast. Tom has played Michael in the show already before playing Billy.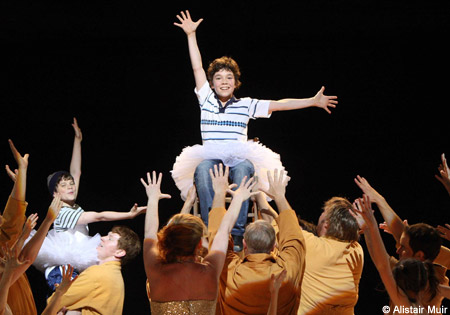 Fox Jackson-Keen as Billy Elliot in one scene of the show
The four of them answer us a brief questionnaire about his experience on BILLY ELLIOT.
WHAT IS YOUR FAVOURITE SCENE/SONG IN THE SHOW?
Brad: Take me up! It's part of the opening number.
Fox: The London audition scene at the Royal Ballet School.
Tanner: "Born to Boogie" – because I can just let go and have fun.
Tom: "Electricity" is my favourite song because of the audience reaction, and Expressing Yourself is my favourite scene as you get to be onstage with your friends.
AND THE MOST DIFFICULT SCENE?
Brad: The London audition scene at the Royal Ballet School.
Fox: Mrs Wilkinson's visit to see Billy just before he performs Angry dance.
Tanner: Mrs Wilkinson's visit to see Billy – because there are so many things to do and remember.
Tom: Angry Dance – as it is so physical
WHAT DO YOU LIKE MOST OF BILLY ELLIOT (THE CHARACTER)? DO YOU IDENTIFY WITH HIM IN ANY ASPECT?
Brad: His vulnerability
Fox: How he is so strong
Tanner: He acts like a grown up but he still feels he needs his mother. He is a kid at heart. I identify with his love for dance and his commitment and drive to succeed.
Tom: I really enjoy acting Billy's journey through the show and how he changes. I share his passion for dance.
DO YOU HAVE A SUPERSTITION BEFORE BEGINNING THE SHOW?
Brad: Not really, I just look forward to the show!
Fox: No, I'm not very superstitious.
Tanner: Yes. I like to follow the same routine so everything has to be in its place!
Tom: No, not really – I'm always quite relaxed.
IS THERE ANY ACTOR/ACTRESS YOU ADMIRE?
Brad: Kate Graham who plays Mrs Wilkinson in the show. She gets so involved in the story and helps me to get into it.
Fox: No, but I do admire my dad. He encourages and supports me to keep trying hard.
Tanner: Ann Emery who plays my Grandma. Throughout her long career she has always maintained a love and passion for performing.
Tom: I really like Craig Gallivan who plays Tony – he is really good in the show and such a nice guy.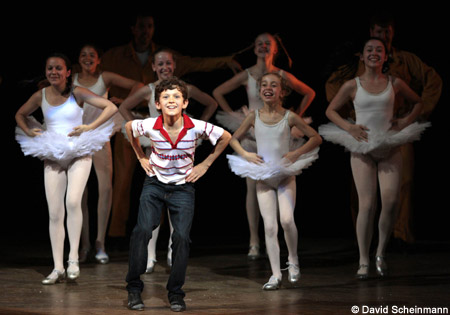 Tom Holland as Billy Elliot in one scene of the show
Información Relacionada
Comentarios
Para poder añadir comentarios necesitas autentificarte como usuario registrado de todoMUSICALES.