entrevistas
[ Volver al artículo en castellano ]
Kerry Ellis: "'Anthems' is a fusion of rock, orchestral and musical theatre"
20/09/2010
The British actress, who currently stars as Nancy in West End´s OLIVER!, released her debut album 'Anthems', produced by Brian May, on September 13.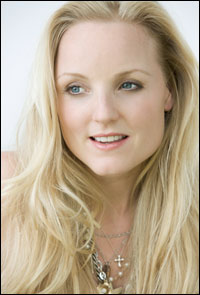 Kerry Ellis is one of the most popular actresses in London´s West End. Her performance of Elphaba in WICKED in 2007 shot her to stardom, and she became the first British actress to play this role in the Broadway production in summer 2008.
Kerry Ellis made her West End debut in MY FAIR LADY at the age of 21. She subsequently created the role of Meat in the original London cast of WE WILL ROCK YOU at the Dominion Theatre. She has also played Fantine in LES MISERABLES at the Queen´s Theatre and Ellen in the UK tour of MISS SAIGON. She currently performs the role of Nancy in OLIVER!. In 2008, the British actress also performed the role of Svetlana in CHESS IN CONCERT at the Royal Albert Hall in a cast that also included Idina Menzel, Josh Groban, Adam Pascal and Marti Pellow.

Her first solo album 'Anthems', produced by Brian May, was released on September 13. Kerry Ellis tells us about her new album and about her artistic career in musical theatre.

HOW WOULD YOU INTRODUCE 'ANTHEMS'?
'Anthems' is a fusion of rock, orchestral, musical theatre, filmic and epic quality. It´s a very new fresh sound that I´m very proud of.

'ANTHEMS' HAS BEEN PRODUCED BY BRIAN MAY, HOW HAS IT BEEN WORKING WITH HIM?
Brilliant. Brian has been a great mentor and allowed me to be a part of the whole process , from mixing the drums to recording a 70 piece orchestra at Abbey Road, it has been an incredible journey.

WAS IT DIFFICULT TO YOU MAKING THE SELECTION OF THE SONGS THAT WILL BE INCLUDE IN YOUR DEBUT ALBUM? HOW WAS THE SELECTION PROCESS?
It was quite a natural progression, we tried out a lot of different songs and styles but found our way mainly by songs that have influenced my career. For example "Anthem" was chosen because we loved the song and I performed in CHESS at the Royal Albert Hall for the first time, which was a special moment for me.

NOW YOU'RE PLAYING NANCY IN 'OLIVER!'. WHAT ARE YOU ENJOYING MOST OF PERFORMING THIS ROLE?
It´s a wonderful production with a fantastic cast, it´s a real pleasure to be a part of the show and play such an iconic role with great songs.

'ANTHEMS' CONTAINS TWO SONGS FROM 'WICKED', A SHOW IN WHICH YOU HAVE PERFORMED ELPHABA FOR A LONG TIME. WHAT DID IT MEAN TO YOU THIS ICONIC CHARACTER?
Well, it was a dream come true as this role also took me to Broadway which was amazing. The show is fantastic and Elphaba has launched me to be able to release my first album.

YOU HAVE WORKED ON 'WICKED' BOTH IN LONDON AND IN NEW YORK. ARE THERE ANY DIFFERENCES BETWEEN WORKING ON THE WEST END AND WORKING ON BROADWAY?
I don´t think there are as many as people would expect, WICKED is such a well received show that people go mad for it wherever in the worked they are, so I just feel very lucky to have been a part of it in both countries.

THE ROLES YOU HAVE PLAYED SO FAR ARE VERY DIFFERENT. DO YOU THINK VERSATILITY IS ONE OF YOUR MOST VALUABLE FEATURES AS AN ARTIST?
I think its very important to be versatile and it also makes it more interesting for me, I´m lucky to have played the roles I have and have loved everyone of them. Each of them have been very different but all come from the same place, telling the story and being honest is how I approach each character.

WHAT KIND OF ROLE THAT YOU HAVEN'T YET DONE WOULD YOU LIKE TO PLAY?
I´d love to do something new and create a role again.

IN YOUR OPINION, DOES IT MAKE ANY DIFFERENCE TO WORK IN A MUSICAL WITH ORIGINAL SONGS, RATHER THAN TO STAR IN A SHOW WITH SONGS FROM A ROCK BAND LIKE QUEEN?
Well, I think storyline is very important to a show as the audience go on a journey with you and have to believe in what your telling them, it also helps when they know and love the songs.

YOU ALSO STARRED IN 'CHESS IN CONCERT' AT THE ROYAL ALBERT HALL. WHAT DID IT MEANT TO YOU TO TAKE PART OF THIS EVENT?
This was always a goal or dream for me. I always wanted to perform there so CHESS was very special and again also why we put a track from the show onto 'Anthems'.

COULD YOU TELL US ABOUT ANY OTHER PROJECTS? HAVE YOU PLANNED PERFORMING YOUR ALBUM SONGS IN CONCERT?
Well, I would love to go on tour with 'Anthems' next year so fingers crossed, watch this space www.kerryellis.co.uk.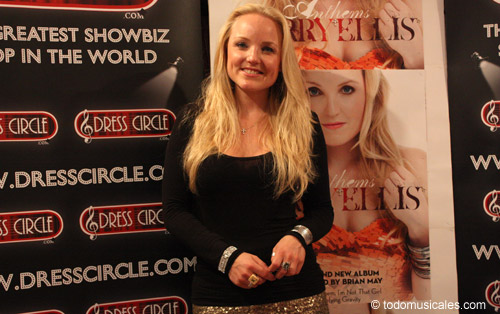 Kerry Ellis signing her album 'Anthems' at Dress Circle
Enlaces de Interés
Información Relacionada