entrevistas
[ Volver al artículo en castellano ]
Caissie Levy: "HAIR is making people question their beliefs and actions"
01/07/2009
The actress plays the role of Sheila in the Tony-Award winning revival of HAIR currently playing at the Al Hirschfeld Theatre.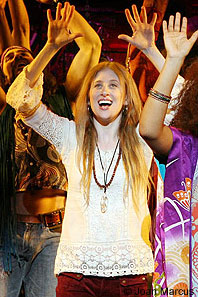 In the summer of 2008 the Delacorte Theatre in Central Park staged a revival of HAIR produced by The Public Theatre. Although it was originally scheduled to play for only two weeks, this new production of the rock musical written by James Rado, Gerome Ragni and Galt MacDermot was a huge success resulting in three extensions of the free production.
The production moved to Broadway in 2009, where it opened March 31 at the Al Hirschfeld Theatre, after beggining previews on March 6.
At its new home, HAIR has continued to succeed. The revival directed by Diane Paulus has obtained all the season awards to Best Musical Revival, including the Tony on June 7.
The cast of HAIR in Broadway is leaded by Will Swenson as Berger, Gavin Creel as Claude, Caissie Levy as Sheila, Allison Case as Crissy and Sasha Allen as Dionne.
Cassie Levy joined the cast of HAIR when it was transferred to the Al Hirschfeld Theatre. Levy, whose Broadway credits include musicals such as HAIRSPRAY, WICKED or RENT, tells us about her work in HAIR.
THE COMPANY OF HAIR PERFORMED ON THE TONY AWARDS CEREMONY ON JUNE 7H, WHERE THE SHOW ALSO WON THE BEST REVIVAL OF A MUSICAL AWARD. HOW DID YOU LIVE THAT SPECIAL NIGHT?
It was an incredible night, as so many of us grew up watching the Tony´s and dreaming of being in a nominated show. It was a true thrill to perform at Radio City and celebrate with all the other nominated shows that night.
THIS PRODUCTION OF HAIR HAS OBTAINED NOT ONLY THE TONY AWARD, BUT IN FACT ALL THE AWARDS OF THIS SEASON TO BEST MUSICAL REVIVAL. WHAT DOES IT MEAN TO YOU AND THE WHOLE COMPANY THIS RECOGNITION FOR THE SHOW AND FOR YOUR WORK?
We feel incredibly grateful to be part of such a meaningful work of art. The fact that HAIR has been winning awards is just icing on the cake. The real beauty of winning an award is, it means people are connecting with us and the message of peace and love, and that´s all we´re trying to do every night at the Hirschfeld.
ALTHOUGH THE SHOW OPENED MORE THAN 40 YEARS AGO, HAIR CONTINUES CAPTIVATING NOWADAYS AUDIENCES. IN YOUR OPINION, WHAT ARE THE REASONS FOR THAT?
I think that the show is incredibly powerful today, because even though our world issues are somewhat different now than they were 40 years ago, we are still battling intolerance, hatred, and political injustices in our world. People come to the theatre to be challenged to think about their lives, and I think HAIR is making people question their beliefs and actions...that´s always valuable.
HAIR FEATURES SOME OF THE GREAT EST SONGS EVER WRITTEN FOR THE STAGE. WHAT IS YOUR FAVOURITE SONG OF THIS MUSICAL? AND WHAT IS THE MOST ENJOYABLE MOMENT OF THE SHOW FOR YOU?
It´s so hard to choose one favorite song from the show, but...I singing my big solo, Easy To Be Hard, not only because it´s a beautiful song, but because of what it says to the audience. I also love Good Morning Starshine, and of course, Let The Sun Shine In. Each song in the show is a real work of art, it´s so hard to choose. I have many favorite moments in the show. I love the scene between my character Sheila and Berger, when she brings him the yellow shirt. I think it´s a subtly written scene, and I enjoy finding new things in it each night. I also love watching my friends do their songs at the top of the show, like ´Claude´ and ´Hud´ and ´Jeannie´. It´s so fun to be their cheerleaders as they introduce themselves.
IN HAIR YOU PLAY THE ROLE OF SHEILA. COULD YOU COMMENT US ABOUT THIS CHARACTER? WHAT DO YOU LIKE MOST OF PERFORMING HER...
Sheila is such a beautiful character. She´s so full of love that it almost hurts. She´s a true idealist but in the best way possible, because she´s not a "talker" she´s a "do-er". She truly practices what she preaches, and I admire that about her. She´s not afraid to speak her mind and she´s a strong leader. She´s also incredibly thoughtful and sensitive, so that´s an interesting yin and yang to play - that strength and that fragility.
THIS PRODUCTION OF HAIR OPENED AT THE AL HIRSCHFELD THEATRE AFTER ITS SUCCESSFUL RUN AT DELACORTE THEATRE LAST SUMMER. WHAT DID YOU THINK WHEN YOU KNEW THAT YOU WERE TO BE PART OF THE COMPANY OF THE SHOW IN BROADWAY?
I felt like I was home even before I began. I felt very strongly that this was my role even before I got asked to audition...I just felt connected to it. So when I did get the offer, I was thrilled because I knew things happened as they should. I didn´t see the production in the park, because I was living in LA at the time, but I had heard great things and was so excited to get started with the cast.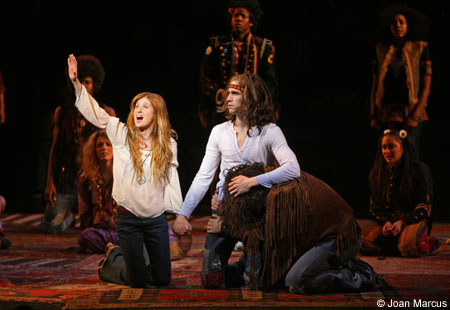 Caissie Levy in the Broadway revival of HAIR
COULD YOU TELL US HOW IT WAS THE REHEARSAL PROCESS TO ADAPT THE SHOW TO THE NEW THEATRE? SOME OF THE PERFORMERS CAME FROM THE CENTRAL PARK PRODUCTION, AND SOME, LIKE YOU, JOINED THE COMPANY FOR THE AL HIRSCHFELD THEATRE RUN. DID THIS FACT AFFECT THE REHEARSALS IN ANY WAY?
There were only three new principal cast members that joined for the Broadway transfer. Every other cast member had done the show in the park. We were nervous about joining them, but they welcomed us with open arms and brought us right into the tribe. The amazing thing is that we rebuilt the show from scratch, because we had a new concept and a new space by virtue of doing the show inside a Broadway theatre and not outside in Central Park. So everything was new, and we built the show together, organically.
IN HAIR THE COMPANY INTERACTS WITH THE AUDIENCE ON SEVERAL OCCASIONS. DO YOU ENJOY THESE MOMENTS?
The audience interaction is incredible, unique, and different each night. I really enjoy connecting with people - hugging them, giving them flowers, chatting with them, sitting on their laps, making them laugh. And the audience plays along so well, they love when we come out to play with them.
YOUR THEATRE CREDITS ALSO INCLUDES OTHER MUSICALS LIKE WICKED, HAIRSPRAY OR RENT, AMONG OTHERS. WHAT MEMORIES DO YOU KEEP SPECIAL OF THESE JOBS?
I have so many special and meaningful moments from working on these shows. Each cast becomes a family, and it´s hard when you leave a show, or it closes, but you carry those friendships with you and often times work with the same people again. RENT was amazing because it was my first job out of college, and I was on tour for a year. I learned so much and bonded so closely with that cast, because we were performing a show we had all grown up worshipping. HAIRSPRAY was amazing for me, because I worked on three companies - the original Toronto cast, the 1st national touring cast, and the Broadway cast. I made my Broadway debut as Penny in HAIRSPRAY and that is a night I will never forget. WICKED came to me shortly after, and it was a dream come true to tackle the character of Elphaba. That was the toughest role I´ve ever played - the emotional and physical stamina needed to play that role each night is staggering. I learned so much and feel fortunate to have played such a beautiful role.
Información Relacionada