entrevistas
Laura Osnes: "The songs of SOUTH PACIFIC are classics, and even the story of love and war is still relevant today"
26/06/2009
The actress plays currently the role of Ensign Nellie Forbush in the Lincoln Center Theater successful revival of SOUTH PACIFIC.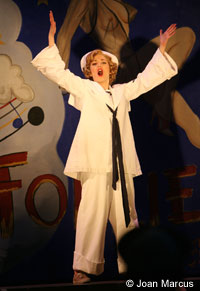 Laura Osnes made her Broadway debut as Sandy in the 2007 revival of GREASE following a talent search on the reality-television competition "Grease: You´re The One That I Want" .

On March 10, 2009, Osnes took over the role of Ensign Nellie Forbush from Kelli O´Hara in the Lincoln Center Theater revival of South Pacific. With Paulo Szot, she currently leads the cast of this Rodgers and Hammerstein revival that opened at the Vivian Beaumont Theatre on April 3, 2008. The production, directed by Bartlett Sher, won seven 2008 Tonys and has been playing to sold-out houses since its first preview.

In this interview, Laura Osnes talks about how she lives this SOUTH PACIFIC experience and her vision on this Rodgers and Hammerstein classic show.
HOW DID YOU GET THE CHANCE OF JOINING THE CAST OF SOUTH PACIFIC? HOW DO YOU FEEL BEING PART OF THIS SUCCESSFUL REVIVAL?
My agent called to tell me that Kelli O´Hara would soon be parting the show on maternity leave and the casting directors were interested in seeing me for her replacement. I was honored to get the call, but truly thought I had no chance of getting the role. I went to the audition and was shocked to get a callback. After a third round of singing for the Rodgers and Hammerstein Estate, I came in one final time to read with Tony-Award winner Paulo Szot, who would play my opposite, Emile DeBeque. I guess all went well, and I got the call that afternoon from my agent. "How would you like to wash your hair eight times a week?" I was ecstatic and so grateful! I feel so blessed to be a part of such a well-respected, successful, and beautiful production. And playing this dream-of-a-role has helped me grow as an actress and as a person.

HOW WAS THE REHEARSAL PROCESS YOU HAD TO FOLLOW TO PREPARE FOR THE ROLE? IT WAS DIFFICULT FOR YOU TO JOIN A COMPANY THAT ALREADY HAD BEEN WORKING TOGETHER ALMOST FOR ONE YEAR?
I got three weeks of rehearsal with the stage manager and dance captain. Bartlett Sher, the director, popped in and out during my last week to add his brilliant finishing touches. I had one rehearsal with the understudies and one put-in rehearsal with the entire cast before my first performance in front of 1,000 people! The first time I´d sung with the 30-piece orchestra was that first performance! It was a little intimidating filling such accomplished shoes and stepping into a well-gelled group of people. But the cast has been so incredibly welcoming, encouraging, and supportive and I definitely felt at home in just a couple days.

BEFORE JOINING THIS PRODUCTION OF SOUTH PACIFIC, HAD YOU SEEN IT AS A MEMBER OF THE AUDIENCE? OR DID YOU KNOW ANY OTHER PRODUCTION OF THE SHOW?
It´s probably a sin that I didn´t see the Broadway show before auditioning for it! I had seen the movie once, but fortunately, my husband had just finished doing a production of SOUTH PACIFIC in South Carolina. I got to watch several of his tech rehearsals and saw the show three times, before I even knew I would be auditioning for the Broadway production!

YOU PLAY THE CHARACTER OF NELLIE FORBUSH. HOW WOULD YOU DESCRIBE HER? WHAT DO YOU LIKE MOST OF PERFORMING THIS ROLE?
Nellie doesn´t quite know who she is yet, but she´s longing to find it. She´s young and naive, but at the same time, sophisticated and adventurous. She yearns to experience new things, meet different kinds of people, and truly see the world... but when she does, she´s very surprised by it all, I think. In the midst of a horrible wartime, that self-proclaimed "cockeyed optimist" has to conquer her own bitter prejudices before she learns her most important lesson. Besides getting to wash my hair and play with soap on stage (hehee!), I love going on Nellie´s journey from the beginning to the end of the show every night. That bright-eyed girl from Arkansas grows and changes so much. By the end of the show, Nellie realizes how wrong she´s been and has learned that love is what matters most. She gets to redeem herself!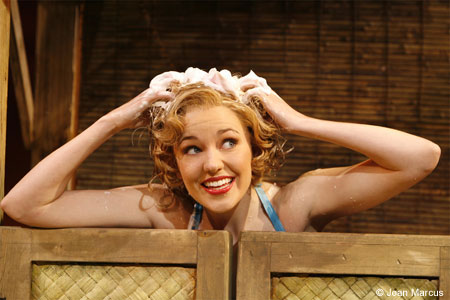 Laura Osnes performing "I´m Gonna Wash That Man Right Outa My Hair"

YOU HAVE PLAYED THE ROLE OF NELLIE NEXT TO PAULO SZOT AND DAVID PITTSINGER. DOES THIS AFFECT YOUR PERFORMANCE IN ANY WAY? IS YOUR PERFORMANCE DIFFERENT DEPENDING ON YOUR PARTENAIRE?
I try to keep my performance as consistent as possible, but playing opposite a different person will automatically bring different responses out of me. The chemistry I have with each of them is definitely different. That´s to be expected, I think. But it just comes down to being in the moment... listening, responding, and truly trusting the person I´m onstage with.

ALTHOUGH SOUTH PACIFIC IS A SHOW WRITTEN 60 YEARS AGO, STILL CONTINUES CAPTIVATING CONTEMPORANY AUDIENCES, AS THE SUCESS OF THE LINCOLN CENTER REVIVAL DEMONSTRATES. WHAT DO YOU THINK ARE THE REASONS PEOPLE HAVE THIS HUGE CONNECTION WITH THE SHOW?
This revival is so beautifully done, and I love that audience members seem to leave our show truly affected by what they´ve experienced. I think word travels quickly when there´s a piece of theater that can enchant and capture an audience like this one does. We also get so many people who say they saw the original Broadway production! So, I think that´s part of it, too -- loyal patrons who still love this incredible musical. The songs are such classics, and even the story of love and war is still relevant today.

HOW DO YOU FEEL ABOUT THE SCORE THAT RODGERS & HAMMERSTEIN WROTE FOR SOUTH PACIFIC? DO YOU HAVE A FAVORITE SONG IN THE SCORE TO SING?
Of course, the score is beautiful!! The best part is getting to sing it every night with a 30-piece orchestra, which is such a rarity on Broadway these days! My favorite songs to sing are "Wonderful Guy" and "Honey Bun."

TO CELEBRATE SOUTH PACIFIC 60TH ANNIVERSARY LAST APRIL, THE CURRENT COMPANY OF THE SHOW MET WITH MEMBERS OF THE ORIGINAL CAST WHO ATTENDED A MATINEE PERFORMANCE. HOW DID YOU LIVE THAT CELEBRATION?
I cried, it was so special. I got to meet Iva Withers, who played Nellie Forbush in the first national tour of SOUTH PACIFIC. She was 91 years-old, and her eyes still sparkled with enthusiasm as she smiled gleefully and gave me a hug after the show. She signed an old picture she had of her as Nellie, and I have it displayed in my dressing room now. I was truly touched by the whole experience.

YOU MADE YOUR BROADWAY DEBUT AS SANDY IN THE 2007 REVIVAL OF GREASE FOLLOWING A TALENT SEARCH ON THE REALITY "GREASE: YOU´RE THE ONE THAT I WANT". HOW WAS THE EXPERIENCE OF APPEARING ON A TELEVISION COMPETITION? WHAT MEMORIES DO YOU KEEP FROM THAT PRODUCTION?
It was a fun but stressful experience going through that reality tv competition. I´m very glad I did it (seeing as how it launched my career and made my Broadway-dream become a reality), but I honestly don´t know if I would do it again. I had to be so careful about what I said and how I came across on television. The pressure of performing live and the competitive nature of the whole experience was a lot to handle. But despite all that, all of the contestants got along surprisingly well, and I still keep in touch with almost everyone from the reality show. GREASE will certainly always hold a special place in my heart.

DO YOU HAVE ANY OTHER PROJECTS IN THE NEAR FUTURE?
There are a few things in the works for after SOUTH PACIFIC, but nothing is certain yet. I´ve done a couple readings that are hoping to take off this fall/winter, but we´ll see what happens. Getting the opportunity to play Nellie has been the best "next step" I could have hoped for. I´m excited to see what doors open next.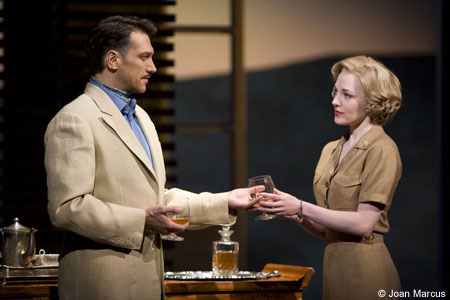 Paulo Szot and Laura Osnes in a scene from SOUTH PACIFIC
Enlaces de Interés
Información Relacionada