noticias
[ Volver al artículo en castellano ]
Tony award-winning revival of HAIR to return to Broadway for 2011 "Summer of Love"
13/04/2011
The acclaimed revival of Gerome Ragni, James Rado and Galt MacDermot musical will begin previews at New York's St. James Theatre on 5th July 2011 after a successful tour with a cast headed by Steel Burkhardt and Paris Remillad.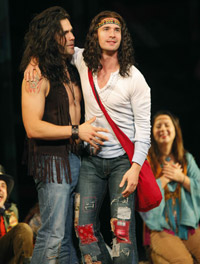 New York's Public Theater (Oskar Eustis, Artistic Director) and Joey Parnes have announced that the Tony Award-winning revival of HAIR: THE AMERICAN TRIBAL LOVE-ROCK MUSICAL, featuring the cast of the critically acclaimed first national tour and direction by Diane Paulus, will return to Broadway summer of 2011! Performances will begin on Tuesday, July 5 and will run through Saturday, September 10, with Opening Night on Wednesday, July 13 at the St. James Theatre (246 West 44th Street).
HAIR's triumphant return to Broadway follows on the heels of its successful first national tour of 20 cities in 9 months during the 2010-2011 season and will feature original revival cast members Steel Burkhardt as Berger, Paris Remillard as Claude, Matt DeAngelis as Woof, Kaitlin Kiyan as Crissy, Darius Nichols as Hud, Kacie Sheik as Jeanie, London cast member Phyre Hawkins as Dionne and Central Park cast member Caren Lyn Tackett as Sheila. The cast also includes: Shaleah Adkisson, Emily Afton, Nicholas Belton, Larkin Bogan, Corey Bradley, Marshal Kennedy Carolan, Laura Dreyfuss, Mike Evariste, Lulu Fall, Tripp Fountain, Nkrumah Gatling, Allison Guinn, Josh Lamon, John Moauro, Christine Nolan, Emmy Raver-Lampman, Arbender Robinson, Cailan Rose, Tanesha Ross, Sara Ruzicka, Jen Sese and Lee Zarrett. Following its strictly limited summer engagement, the HAIR tour will continue across the country.

Winner of the of the 2009 Tony Award for Best Revival of a Musical, and the Drama Desk, Drama League, and Outer Critics Circle 2009 awards for Outstanding Revival of a Musical, HAIR opened on Broadway at the Al Hirschfeld Theatre to unanimous raves March 31, 2009 and played more than 500 performances before closing on June 27, 2010.

Oskar Eustis, Artistic Director of the Public Theater commented, "We are delighted to welcome the Tribe back to New York after a year of spreading HAIR's message of peace, love and justice across the United States. Now more than ever we need to Let the Sun Shine in!"

Director Diane Paulus said, "Taking HAIR across America has deepened the show in ways I could never have imagined. The tribe that is coming back to Broadway has traveled the country together. They are a true tribe. For me, they are the "best of" cast -- original Broadway company members, people who joined us for our London run, and the youngest new cast members who joined the tour and will now be making their Broadway debut."

Directed by Diane Paulus and choreographed by Karole Armitage, HAIR features a book and lyrics by Gerome Ragni and James Rado and music by Galt MacDermot. The story of a group of young Americans searching for love and peace during the Vietnam era, HAIR is a timeless portrait of a movement that changed the world. Its groundbreaking rock score paved the way for some of the greatest musicals of our time. Now, the "Age of Aquarius" dawns again in this jubilant new production. The creative team also includes Scott Pask (scenic design), Michael McDonald (costume design), Kevin Adams (lighting design) and Acme Sound Partners (sound design).

HAIR is presented by The Public Theater (Oskar Eustis, Artistic Director), Joey Parnes, Nederlander Productions Inc., Carl Moellenberg/Wenlarbar Productions, Rebecca Gold/Myla Lerner, Rick Costello, Joy Newman & David Schumeister, Paul G. Rice/Paul Bartz, Debbie Bisno, Christopher Hart Productions, John Pinckard, Terry Schnuck, and by special arrangement with Elizabeth Ireland McCann.
Información Relacionada
Comentarios
Para poder añadir comentarios necesitas autentificarte como usuario registrado de todoMUSICALES.