[ Volver al artículo en castellano ]
CAISSIE LEVY, Hamilton (Canada) 1981
01/07/2009
She´s an actress that has starred in musicals as HAIRSPRAY, WICKED, RENT and the last Broadway revival of HAIR.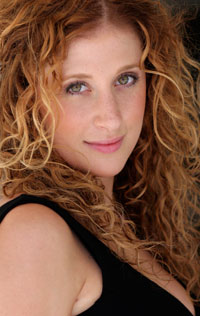 Her professional debut was as Maureen in the National Tour of RENT.
Other theatre credits in Broadway include HAIRSPRAY (in the role of Penny Pingleton) and WICKED (as Elphaba), a role that she first played in Los Angeles. Some other of her theatre credits are THE YELLOW MOOD (Off-Broadway, NYMF) and SMOKEY JOE´S CAFE (North Shore Music Theatre).
Currently she´s starring in the revival of HAIR at the Al Hirschfeld Theatre, where she plays the role of Sheila.

- The first musical you saw and/or most impressed you: LES MISERABLES.
- You would like to make a duet with: Bob Dylan singing: "Don´t Think Twice".
- Webber o Sondheim?: Sondheim.
- London or New York?: LOVE London, but I´d still choose New York.
- Do you keep the programmes of the musicals you watch?: I used to, but I move so often, I´ve stopped.
- The worst moment you've had live on the stage was: (as a performer and/or as a spectator) When I´ve forgotten a line - TERROR!
- An unforgettable moment: (as a performer and/or as a spectator) My Broadway debut as Penny Pingleton in HAIRSPRAY.
- Do you have any superstitions before the opening night? No, believe it or not.
- What do you like best/least about your work? I love being creative every day, and touching people´s lives through art. But I miss being able to go out at night with my friends.
- What is your favorite musical movie? WHITE CHRISTMAS.
- The last CD/DVD related to Musicals that you have bought is: HAIR´s cast album!
- Agree or disagree with TV Shows finding new Musical Stars: I think the talent found is usually mediocre, but I don´t begrudge anyone the opportunity.
- You feel proud of: Being a working actor on Broadway.
- Of this moment you're living as an actress, the most important thing to you is: Giving the audience an amazing experience each night.
- Other projects you are working on: Always working on new shows that are in development, and doing a lot of commercials. Who knows what the next theatre job will be?! That´s part of the fun.
Información Relacionada