noticias
[ Read this Article in English ]
Natalie Casey reemplazará a Denise Van Outen en el elenco de LEGALLY BLONDE THE MUSICAL
22/03/2011
El 26 de abril de 2011 realizará su primera función como Paulette uniéndose a un reparto liderado por Susan McFadden, Alex Gaumond y Simon Thomas. El musical ganador de tres premios Olivier este 2011 continúa en cartel en el Savoy Theatre del West End.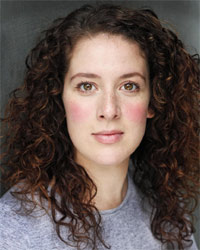 A partir del 26 de abril Natalie Casey se incorporará al elenco del West End de LEGALLY BLONDE THE MUSICAL para interpretar a la esteticién Paulette Buonofonté. Se une a un reparto liderado por Susan McFadden (Elle Woods), Alex Gaumond (Emmett Forrest), Simon Thomas (Warner), Carley Stenson ( Margot), Nicola Brazil (Serena), Siobhan Dillon (Vivienne) y Peter Davison (Professor Callahan). Casey sustituye a Denise Van Outen, que realizará su última función el sábado 23 de abril. A partir de mediados de junio Lee Mead sustituirá a Alex Gaumond como Emmett Forrest.
El pasado 13 de marzo LEGALLY BLONDE THE MUSICAL, estrenado en el Savoy Theatre en diciembre de 2009 y actualmente con el periodo de venta de entradas hasta el 31 de marzo de 2012, ganó tres premios Laurence Olivier 2011, incluido el de Mejor Nuevo Musical.

Natalie Casey es popular en el Reino Unido por el personaje de Donna en la serie de la BBC 'Two Pints of Lager and a Packet of Crisps'. En el escenario ha participado en 'The Invisble Man' en la Menier Chocolate Factory, OKLAHOMA en el Festival de Chichester, 'Well' en el Apollo Theatre y FAME en el Shaftesbury Theatre. Entre sus créditos televisivos se encuentran 'Missing', 'Hollyoaks' y 'Girls Night' y en cine interpretó a Shirley Temple en 'Chicago Joe and the Showgirl'.

LEGALLY BLONDE se centra en el personaje de Elle Woods, una atractiva rubia, aparentemente boba, que únicamente piensa en cosméticos, modas y arreglo personal, y cuya única meta parece ser casarse con su próspero novio. Pero su novio desea entrar en la política y sabe que una esposa como Elle representaría un obstáculo en su carrera, de modo que decide cortar con ella antes de enrolarse en la prestigiada carrera de derecho en la universidad de Harvard. Elle, deseosa de recuperar a su novio, decide enrolarse también, y del modo más absurdo lo logra casi sin dificultad. Ya en Harvard, sin embargo, Elle empieza a cambiar su forma de pensar y, haciendo igual uso de su latente inteligencia y de su diestro sentido de la moda, logra avanzar tanto romántica como académicamente.

LEGALLY BLONDE THE MUSICAL está dirigido y coreografiado por Jerry Mitchell. El musical cuenta con música y letras de Laurence O'Keefe y Nell Benjamin y libreto de Heather Hach. La escenografía es obra de David Rockwell, el vestuario de Gregg Barnes, la iluminación de Kenneth Posner y Paul Miller y las orquestaciones de Christopher Jahnke.

El elenco completo de LEGALLY BLONDE lo forman Stephane Anelli (Padamadan, Nikos), Emma Bateman (Stenographer), Nicola Brazil (Serena), Thomas Camilleri (Carlos), Peter Davison (Professor Callahan) Siobhan Dillon (Vivienne Kensington), Chris Ellis-Stanton (Grandmaster Chad, Dewey, Kyle), Kimmy Edwards (Judge, Saleswoman), Alex Gaumond (Emmett), Ibinabo Jack (Pilar), Suzie McAdam (Enid), Susan McFadden (Elle Woods), Sorelle Marsh (Courtney, Mom, Whitney), Aoife Mulholland (Brooke), Sean Mulligan (Pforzheimer), Dawn Sievewright (Kate, Chutney), Carley Stenson (Margot), Lincoln Stone (Dad, Winthrop, Reporter), Simon Thomas (Warner), Robbie Towns (Aaron), Dominic Tribuzio (Kiki), Denise Van Outen (Paulette), Tamara Wall (District Attorney) y Stephen Webb (Lowell), además de Jonathan Mawson, Jane McMurtrie, Lucy Miller, Ruthie Stephenson y Gregor Stewart como swings.

LEGALLY BLONDE THE MUSICAL está producido en el West End por Sonia Friedman Productions, Robert G. Bartner, Ambassador Theatre Group, Bud Martin, Adam Zotovich, Jamie Hendry Productions, Matthew Byam Shaw y Act Productions.

Paralela a la producción de LEGALLY BLONDE THE MUSICAL en el West End se estrenará una nueva producción en gira por el Reino Unido que se iniciará en Liverpool en julio de 2011.
Enlaces de Interés
Multimedia
Información Relacionada
Comentarios
Para poder añadir comentarios necesitas autentificarte como usuario registrado de todoMUSICALES.