entrevistas
[ Volver al artículo en castellano ]
Dee Roscioli: "What I like most about Elphaba is her inexhaustable passion and heart"
22/09/2009
From July 21 Dee Roscoli performs the role of Elphaba in the Broadway production of WICKED, the musical by Stephen Schwartz that is about to celebrate its 6th anniversary at the George Gershwin Theatre.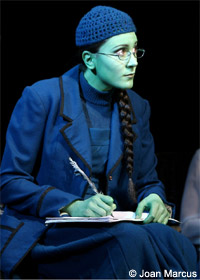 Dee Roscoli has made her Broadway debut this summer playing Elphaba in the successful production of WICKED. But this role is not new to her, because in fact she has been on WICKED for three years. On January 2006 Roscioli joined the Chicago production of WICKED replacing Kristy Cates as Elphaba cover, and on December 2006 she was already the leading actress for the role. On June 2008 Dee Roscioli left the company for two months, joining again in August and remaining there until January 2009 when the WICKED production of Chicago ended its run. It became the most succesful show in the history of the city. On this year 2009 Roscioli has also been several weeks in the WICKED production of San Francisco. At last, on July 29, 2009 she replaced Nicole Parker as Elphaba in Broadway. Almost six years later, Stephen Schwartz´ show continues its success at the George Gershwin Theatre.
Theatre credits of Dee Roscioli also include the US tour production of CATS playing the role of Grizabella, and Audrey in a regional production of THE LITTLE SHOP OF HORRORS.
We talk with Dee Roscioli about her Broadway debut and about the role of Elphaba, which she claims to discover new things every performance.
YOU MADE YOUR BROADWAY DEBUT LAST JULY 21TH PLAYING THE ROLE OF ELPHABA IN WICKED. DID THAT NIGHT HAVE A SPECIAL MEANING TO YOU?
I don´t know if you´ve ever had all your dreams come true in a single night but it feels surreal. I cried like a baby at the curtain call. I´ll never forget that night.
HAS IT BEEN VERY DIFFICULT TO YOU JOINING THE BROADWAY CAST? HOW DID THEY WELCOME YOU?
This cast and crew is not only amazingly talented but also somehow down to earth and the most friendly supportive group I´ve ever worked with. The transition was weirdly smooth, maybe because I had done it for so long in Chicago or maybe because I had done a few weeks in San Fran but I´m not sure why. It´s remarkable what you can get done when you are focused.
YOU'VE BEEN PERFORMING ELPHABA FOR TWO YEARS IN CHICAGO, AND ALSO IN SAN FRANCISCO, SO YOU KNOW SO WELL THIS CHARACTER, WHAT DO YOU LIKE MOST OF HER?
Her inexhaustable passion and heart.
WHAT IS THE SCENE OF THE SHOW THAT YOU ENJOY MOST?
"The wizard and I" is one of my favorite songs because she is filled, for the first time, with such hope, also because she reveals a piece of that huge heart.
WHAT IS THE SECRET FOR NOT FEELING TIRED AFTER DOING THE SAME CHARACTER FOR SO MANY YEARS?
Ah wouldn´t you like to know!!! I´m still learning about Elphie. It changes all the time and I think not getting attached to a certain "way" helps keep it fresh.
11th AUGUST ERIN MACKEY JOINED THE BROADWAY CAST AS GLINDA. YOU TWO WORKED TOGETHER IN CHICAGO'S ´WICKED´... WHAT DOES IT MEAN TO YOU WORKING AGAIN WITH HER? IS IT IMPORTANT FOR THE SHOW TO HAVE CHEMISTRY WITH THE ACTRESS THAT PERFORMS GLINDA?
I love Erin she is so real. In Chicago we both had dreams of going to Broadway together, so for it to come to fruition is magic. I think the story is strong enough to stand on its own and the audience will enjoy it very much BUT when the actresses playing Glinda and Elphaba have chemistry they leave the theatre with an experience. When there is chemistry the story comes alive in ways it can´t on its own and thats what really leaves a mark.
YOUR ROLE IN ´WICKED´, ELPHABA, IS A GIRL WITH GREEN SKIN. COULD YOU TELL US ABOUT THE MAKE-UP PROCESS YOU HAVE TO FOLLOW TO PLAY ELPHABA IN ´WICKED´? It´s actually pretty simple. There is a makeup artist, thankfully, and they basically paint the green on with a big paint brush. It´s then powdered to set. The first act is simple beauty makeup with added contour to the cheeks and nose, the second is a little more glamorous with a darker lip and smoky eyes, the contour is also deepened to give her a more dramatic appearance.
WHY DO YOU THINK ´WICKED´ IS STILL ONE OF THE MOST SUCCESSFUL BROADWAY SHOWS SIX YEARS AFTER ITS OPENING?
I think the nostalgia of The Wizard Of Oz is very much apart of it. Also its universal themes of acceptance and friendship. And, my personal favorite, finding love in unexpected places.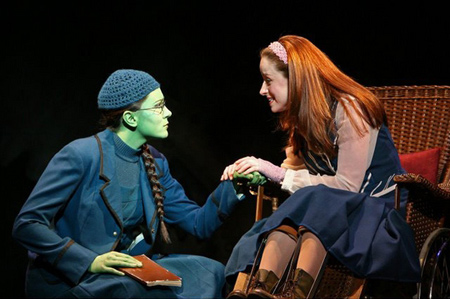 Dee Roscioli and Heidi Kettenring in the Chicago production of WICKED
ARE THERE ANY DIFFERENCES BETWEEN WORKING IN A BROADWAY MUSICAL AND WORKING IN A REGIONAL OR IN A TOURING PRODUCTION? MAYBE MORE PRESSURE? MAYBE THE AUDIENCE RESPONSE?
It´s Broadway. I know that I give my all to every show no matter where or what it is. I think there is more pressure just because it´s so prestigious and the audiences are always sold out so I think that makes for an always responsive audience.
YOU'VE JOINED THE LIST OF BROADWAY ELPHABA'S: IDINA MENZEL, EDEN ESPINOSA, SHOSHANA BEAN, STEPHANIE J. BLOCK, KERRY ELLIS, MARCIE DODD, NICOLE PARKER... HAVE YOU GOT ANY FAVOURITE?
I´ve seen Idina, Shoshana, and Nicole live, the others I´ve seen bits and pieces on YouTube. I´m amazed at all of them. I´m most intrigued by Ms Block.
WHAT DO YOU THINK THAT ARE THE MAIN QUALITIES THAT HAS TO HAVE AN ACTRESS IN ORDER TO PERFORMING THIS ROLE?
A serious set of pipes and firey passionate nature.
WHAT KIND OF ROLE THAT YOU HAVEN'T YET DONE WOULD YOU LIKE TO PLAY?
I´d like to originate a role in a new musical. I´d also like to play Fantine in LES MISERABLES someday.
Información Relacionada