noticias
[ Volver al artículo en castellano ]
Bryan May and Kerry Ellis to embark on The Born Free Tour
02/10/2012
Queen legendary guitarist and the actress who has star in shows such as WICKED or OLIVER! will launch the 11-date Born Free Tour on the 5th November, performing at London´s Union Chapel on the 11th November.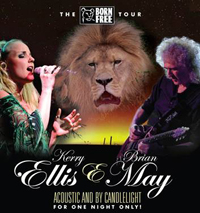 Known as one of music's most powerful players, Queen legendary guitarist Brian May is going unplugged for a unique tour he is about to embark on with acclaimed singing star Kerry Ellis.
The two have enjoyed a hugely successful musical partnership in recent times, with Kerry earlier this year receiving a Best Solo Performance award for ´Anthems´, the show arranged and produced by May as a showcase for her talents which premiered at London's Royal Albert Hall.

Beginning Monday November 5th, Brian and Kerry are heading out on the road to present their Born Free Tour, a series of 11 intimate and totally acoustic shows performed under candlelight.

These special intimate concerts provide a chance to see Ellis and May close-up, and are being especially performed to raise awareness of the work of the Born Free Foundation, the global organisation which works to protect and conserve threatened species, particularly Africa's magnificent Lions, which across much of Africa, are now in serious decline.

Behind the decision to perform the tour is a new recording made by Brian and Kerry of "Born Free", the Oscar-winning song written for the 1966 film of the same name. Invited by Virginia McKenna´s Born Free Foundation to view and participate in its work at the Shamwari game reserve and rescue centre in South Africa's Eastern Cape, Brian and Kerry have pledged to support Born Free both publicly and materially. Having recorded both a large-scale production version and an acoustic version of Born Free, Brian and Kerry will release both versions on one single, with all proceeds going to the Foundation.

The 11-date Born Free tour, which starts on 5th November at The Apex in Bury St. Edmunds, promises an informal evening in the company of Brian and Kerry performing a new collection of their own personal favourite songs as well as new arrangements of some of those they have previously performed in concert and recorded together, sung by Kerry with Brian accompanying her on both guitar and vocals.

Says Brian May: "Over the last year, Kerry and I have been recording new material when our schedules have allowed it. As on the Anthems album, some of the tracks have very big and splendid arrangements, but we have become more and more fascinated with the magic of great songs stripped down to their core and re-interpreted in an ´acoustic´ way. We find there is a purity which makes the songs speak very clearly. Kerry´s instincts as an interpreter of songs are always inspiring, and the art of arranging has always been one of my obsessions. We have found that the two of us just working live off each other can distill the very essence of a song - and that´s what we hope to bring you in these dates. After all, if you have great songs and a great singer, what more do you need? Well, maybe just a little bit of guitar!"

The Born Free Tour follows a series of acclaimed performances by Kerry & Brian together over the past few years. They stole the show when they performed together on the Royal Variety Show in 2008, they performed live together again at BBC Proms in the Park and at 2010's The Night of 1000 Voices, and they opened the Remembrance Day concert at the Royal Albert Hall. Their Anthems: The Tour played 12 hugely successful dates around the UK in May 2011.

Full UK Tour Dates:

Monday 5 November 2012 - Bury St Edmunds, The Apex

Tuesday 6 November 2012 - Leamington Spa, The Assembly

Wednesday 7 November 2012 - Corby, The Core at Corby Cube

Friday 9 November 2012 - Tunbridge Wells, Assembly Hall Theatre

Saturday 10 November 2012 - Brighton, St. Georges Church

Sunday 11 November 2012 - London, Union Chapel

Monday 12 November 2012 - St. Albans, Alban Arena

Thursday 15 November 2012 - Crawley, The Hawth

Friday 16 November 2012 - Portsmouth, New Theatre Royal

Saturday 17 November 2012 - Salisbury, City Hall

Monday 19 November 2012 - High Wycombe, Swan Theatre
Enlaces de Interés
Información Relacionada
Comentarios
Para poder añadir comentarios necesitas autentificarte como usuario registrado de todoMUSICALES.