entrevistas
[ Volver al artículo en castellano ]
Mark Evans: "My album is a very accurate representation of me as a person, artist and musician"
11/11/2011
The Welsh actor, who is currently playing the role of Fiyero in the West End production of WICKED, has just released his debut album 'The Journey Home'.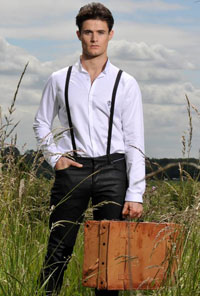 'The Journey Home' is the debut album of Mark Evans, the Welsh actor who is currently starring as Fiyeron in the West End production of WICKED.
In spite of his youth, Mark Evans has led different musical shows in the West End and on tour in the UK. His credits include Curly in the National Tour of OKLAHOMA!, Brad Majors in THE ROCKY HORROR SHOW Uk Tour; and Troy Bolton in HIGH SCHOOL MUSICAL at the Hammersmith Apollo. He was also part of the cast of MONTY PYTHON'S SPAMALOT at the Palace Theatre. He also was a finalist in Eurovision's BBC program 'Your Country Needs You' in 2009.

Mark Evans tells us about his first album and about his intense and diverse professional career.

HOW WOULD YOU INTRODUCE YOUR ALBUM 'THE JOURNEY HOME'?
I would describe my album as a very accurate representation of me as a person, and as an artist and musician, as it has an autobiographical theme to it. It has 12 tracks varying from legitimate sounding musical theatre through to elements of rock, pop and jazz. Having worked hard on this, my debut album, I am very proud of what we have achieved on the record and have been delighted with the reaction since it went on sale.

WHY DID YOU DECIDED TO MAKE IT BI-LINGUAL BETWEEN WELSH AND ENGLISH? I am a very patriotic, proud Welsh speaking Welsh man and I am eternally grateful to my parents for raising me completely bi-lingual. I also recognise the benefits being a Welsh speaker has had in my career and I would never take that for granted, so I felt it was important to give as much back to my Welsh supporters, fans and followers as to everyone else. It´s also never been done on such a large scale for a musical theatre artist, to my knowledge, and it´s important to me to always try to break the mould and push boundaries.

HOW WAS THE PROCESS OF SELECTING THE SONGS THAT ARE IN THE ALBUM? WHY DID YOU CHOSE THESE 12 SONGS? It was a very difficult and lengthy process. It took a good 6 or 7 months to finalise my song choices and get everything together to hit the studio. The album is semi-autobiographical of the past 10 years of my life since leaving home so having that theme helped in a way to be a little more specific as to what sort of songs I was trying to find. I´ve also been blessed with some original songs that were written for me. Scott Alan wrote ´Until Then´ which I adore. It´s kind of Eva Cassidy in it´s feel the way we recorded it. I co-wrote the song ´Dal I Gredu´ (Keep On Believing) with my very talented friend Oliver Tompsett, and the genius young composer Michael Bruce wrote the Duet ´Alive´ for Ashleigh Gray and I.

HOW HAS YOUR FANS´ REACTION TO THE ALBUM BEEN SO FAR?
My fans are so supportive in everything I do and I am genuinely eternally grateful. I am delighted to have this album out now as I feel it´s a way for me to give something back to the fans in return for their loyalty and support. The messages and reaction in general has been overwhelming. It has already become more successful as a debut album in these first two weeks of release than I ever thought it could and a lot of that is down to my fans. They´re amazing!

WHY DID YOU DECIDE TO NAME THE ALBUM 'THE JOURNEY HOME'? It´s actually the title of one of the songs on the album and the whole theme is about me feeling ambitious and wanting to break out of the sheltered life I was living in the farming hills of North Wales and coming full circle to state how proud and patriotic I am to be Welsh and The Journey Home explains how my family will always be my priority!

WHAT WOULD YOU HIGHLIGHT OF YOUR GUEST ARTISTS, YSGOL GLANAETHWY AND ASHLEIGH GRAY?
Having a strong Welsh choir was always a must as far as my ideas for my debut album were concerned and Glanaethwy are young, energised and very talented. Their conductor Cefin Roberts is a real inspiration to all the choir members and his enthusiasm gets the best results from his hugely successful choir and theatre school. As far as the duet was concerned it seemed only right that as the album was to be very personal that I was to have a close friend join me on one of the songs. Ashleigh Gray and I met 4 years ago when I first joined Wicked in the ensemble and we´ve been great friends ever since and she has one of the most amazing voices ever. The duet was written specifically for our voices by one of my favourite young british composers Michael Bruce who is a good friend of mine. I am thrilled with the results of all the songs everyone has contributed their talents to.

HOW WOULD YOU ASSESS THIS SEASON IN 'WICKED' PERFORMING THE ROLE OF FIYERO? Fiyero has been a role I´ve wanted to play since I first heard the Broadway soundtrack 7 years ago and I never thought I´d actually get to do it. I understudied the role 3 years ago and swore that on my last performance in the ensemble back then that I would definitely return to play the role at some point in my lifetime and here I am doing it. I love it. As an actor it´s a great showcase for me as far as singing, acting and dancing are concerned, working with Louise and Rachel as Glinda and Elphaba is an absolute pleasure, they´re wonderfully talented and to be part of such a massive production like WICKED is an honour. Shows as big and expensive and impressive as this very rarely get produced nowadays because it´s too big a financial risk and so I´ve made the most of every moment so that I feel I have nothing more I could possibly take from it upon my departure from the show on December 10th

HAS IT BEEN DIFFERENT FROM THE FIRST TIME YOU WERE IN THE SHOW? HAS IT EVOLVED IN ANY ASPECT? The show is still exactly the same apart from the actors interpretation of the roles in my opinion. I feel the truth of the story is being told a lot more now in London than it ever has done and it´s not just about belting the impressive high notes and riffing and playing for audience reaction. We as actors go on a journey every night and by the end of the show we arrive at a certain place, and wherever that place is, we have brought the audience along with us, which to me, is good story telling and a fantastic opportunity for the paying public to experience the wonder that is 3 hours of escapism from the stress of real life! I feel like I am a completely different person now to who I was when I was last in the show and I have gained much more experience, confidence and knowledge since then and I feel I can use everything i´ve learnt in my performance as Fiyero now.

YOU HAVE WORKED IN SHOWS SUCH AS 'OKLAHOMA!', 'THE ROCKY HORROR SHOW' AND 'SPAMALOT'. WHICH MOMENTS OF YOUR CAREER IN MUSICAL THEATRE HAVE BEEN MORE IMPORTANT TO YOU? The most important thing for me is that when a job offer comes along, we (my agent, my manager and I) only accept that offer if it´s the right job and a step in the right direction to keep moving up in my career and to help achieve a career which has real longevity. So I feel lucky that everything seems to have slotted in nicely and every job I have done so far has taken me to a different professional level and status within the industry and I have my agent and manager to thank for that. As far as the most enjoyable job is concerned I can´t single one out, because I´m the sort of guy who tried to make the most out of every situation so I tend to think that my favourite job is the one I´m currently working on each time.

YOU WRITE YOUR OWN BLOG. WHAT DO YOU ENJOY MOST OF THIS? WHY DID YOU DECIDE TO START IT? I started writing my blog over a year ago now and I was inspired by the film Julie & Julia (Meryl Streep & Amy Adams) - it´s about writing a cookery blog. I started writing mine almost like a light hearted journal every couple of days and it has now evolved into something I spend a couple of hours writing every Thursday of each week, so it has a weekly diary feel to it. I am thrilled that it´s developed such a massive following. Since starting it I´ve had over 35,000 hits on it and that helps me to feel inspired to keep writing it every week, because I must admit, being constantly busy, it is sometimes hard to fit in the time to sit and type! I like to think that it is a good representation of a working actors life style and how it isn´t all glamour and show biz, if you want to be successful, you need to be willing to put in a lot of work and long hours!

YOU HAVE ALSO DEVELOPED AN IMMENSE AMOUNT OF WORK ON TV. HOW WOULD YOU ASSESS YOUR WORK IN THIS MEDIA? WHAT DOES IT MEAN TO YOU? I love having such a variety in my career. I trained in musical theatre and acting but have had so many different things to work on in TV and Radio especially in Wales as I speak Welsh. I have my own Radio Programme, a TV documentary which has been filmed following a year in my life throughout 2011. I am currently working on my own TV show "An Evening With Mark Evans" which is an hour TV special for the Welsh language channel
S4C. I created the title role in a children´s TV series ´Marcaroni´ where we filmed 52 episodes earlier this year. I have also done lots of presenting work in Wales and in London. It makes my life a lot more interesting to be given knew challenges and different styles of work. It´s very important to me because I get bored quite quickly!

COULD YOU COMMENT ON YOUR FUTURE PROJECTS? My last performance as Fiyero in WICKED is December 10th and then I have a busy couple of months with lots of projects and TV things and my own one man Christmas Show and some presenting work. Also getting back into the studio to record some more music. As long as I´m happy and enjoying myself then that is the main thing and my priority! I feel very fortunate to get paid to do something i love and couldn´t imagine doing anything else.
Enlaces de Interés
Información Relacionada