entrevistas
[ Volver al artículo en castellano ]
Daniel Boys: "The key to Avenue Q success is that it has real heart to it"
01/08/2008
Daniel Boys is currently appearing in the roles of Princeton/Rod in the West End production of AVENUE Q at the Noel Coward Theatre.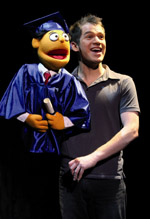 It's a really Smash Hit in Broadway since its opening in Broadway five years ago. Created by Robert Lopez and Jeff Marx, the show is largely inspired by Sesame Street.

AVENUE Q opened in London's Noel Coward Theatre on June 2006, and keeps on having a great success between the audience. Daniel Boys joined the company last December performing the roles of Princeton and Rod.

Daniel Boys tells us about his experience in this musical.
YOU'RE PERFORMING THE ROLES OF PRINCETON AND ROD IN LONDON AVENUE Q, HOW ARE YOU LIVING THIS EXPERIENCE? WHAT DOES IT MEAN TO YOU?
It means a lot to me being in Avenue Q. I was a fan of the show, anyway and really wanted to be in it especially playing Princeton and Rod. So being offered the roles and actually being in it is a dream come true.

HOW IT IS TO ACT WITH PUPPETS? IS IT MUCH COMPLICATED THAN PERFORMING ANY OTHER ROLE?
There is no doubt that this is the hardest job that I have had. Puppetry is/was a new skill for me to learn and a very difficult one too! It hurt my arm a lot in rehearsals. Thankfully I'm used to it now and it doesn't seem to hurt so much. It's great acting with puppets I've become quite attached to them.

HOW DO YOU DESCRIBE THE CHARACTERS YOU PERFORM? WHAT DO YOU LIKE MORE ABOUT THEM?
The show is based around Princeton who is a recent graduate from college, who is trying to find his purpose in life. He is a very likeable nice guy who makes lots of new friends when he moves to Avenue Q, including the other character I play, Rod. Rod is an adorable little character who is very frustrated and confused as he harbours a secret that he doesn't know how to tell his friends. I enjoy playing both of these characters and it's great as an actor to get to play such contrasting rolls in one show.

WHAT DID YOU THINK ABOUT AVENUE Q BEFORE WORKING IN THIS MUSICAL?
I was a fan of the show, anyway and really wanted to be in it especially playing Princeton and Rod.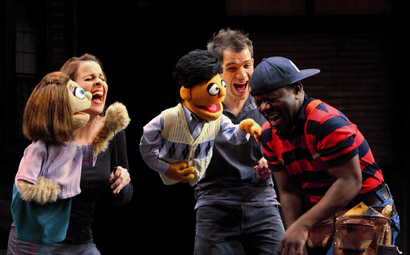 WHY DO YOU THINK THAT AVENUE Q HAS BEEN SO SUCCESSFUL SINCE ITS OPENING IN BROADWAY?
The key to Avenue Q success, I believe, is that it has real heart to it. Yes, it's funny, rude, brash etc. But it also takes the audience on a journey and a very real one at that. Its subject matter is something that everyone can relate to and there are some very moving, real scenes in it. It's very clever to be able to do this all in one show.

LAST YEAR YOU STARRED I LOVE YOU BECAUSE, HOW WAS TO TAKE PART OF THIS MUSICAL? DO YOU KNOW IF IT IS GOING TO OPEN AGAIN IN LONDON?
It was fantastic being involved in a UK premier of a show and such a good one too. I loved creating a role for myself. It was a tiny little theatre too and that also was a new experience for me. Daunting and Challenging. It really is a great musical and deserves to be put on again somewhere. Let's keep our fingers crossed!

YOU WERE ONE OF THE FINALISTS OF THE TV SHOW 'ANY DREAM WILL DO', WHAT DOES IT MEAN TO YOU? BEING IN THAT SHOW HAS OPENED DOORS TO YOU?
'Any Dream Will Do' is the most surreal but exciting audition process that I have ever gone through. It was incredible to get to work with and sing to such important people such as 'The Lord'. And also to think that each week 7 million people in the UK alone were watching me sing. It was very exciting. There is no question that it has helped me. It's given me a new found confidence in myself, which I was lacking, and it has also helped me create a certain profile for myself which is so important in this very tough business.

DO YOU THINK THAT THIS KIND OF REALITIES IS GOOD FOR MUSICAL SHOWS?
I do, Yes. It's bringing into the West End a whole new generation of theatre goers and also creating new musical theatre stars which we haven't really had since Elaine Page and Michael Ball. London's had box Office records recently and I think a lot of this is due to these TV shows.
Información Relacionada