entrevistas
[ Volver al artículo en castellano ]
Louise Dearman: "I love to explore new ways of performing a song so it sounds very different to the original"
13/10/2010
The British actress, who is currently performing Glinda in West End's WICKED, will offer a solo concert next 7th November at London's Leicester Square Theatre.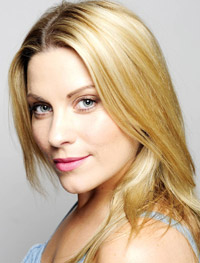 On 29th March 2010 Louise Dearman joined the West End cast of WICKED performing the role of Glinda at the Apollo Victoria Theatre. The British actress made her professional debut in 1998 joining the touring cast of JOSEPH AND THE AMAZING TECHNICOLOR DREAMCOAT as the Narrator. Actually, she had taken part of this Show when she was 13 as part of a children's choir. Louise has also starred in the UK tour productions of GREASE, JEKYLL AND HYDE and EVITA; and in the West End productions of GUYS AND DOLLS at the Piccadilly Theatre, KISS ME KATE at the Victoria Palace Theatre and in the William Finn revue MAKE ME A SONG at the New Players Theatre.
Louise Dearman will offer a solo concert next 7th November at London's Leicester Square Theatre. She will perform some of the songs from her debut album 'You And I', that was released in 2005. Louise Dearman tell us about her next London concert and about her professional career in musical theatre.

HOW WILL BE THE CONCERT YOU WILL BE OFFERING NEXT 7TH NOVEMBER?
I am so looking forward to my concert on 7th November. I have an incredible Musical Director, Mr James Draisey and a fabulous band! I enjoy so many different styles of music and love to explore new ways of arranging and performing a song so it sounds very different to the original and this is what everyone can expect from my concert, a wide range of styles and songs that will hopefully satisfy everyones tastes. We´ll have a lot of fun!

COULD YOU TELL US SOMETHING ABOUT THE REPERTOIRE? WHICH KIND OF SONGS DO YOU ENJOY PERFORMING THE MOST?
As far as what type of songs I enjoy performing the most, this changes all the time. I´m probably best known for singing ballads but variety is the spice of life as they say and I like to mix things up. I love the very intimate, acoustic gigs I sometimes do, there´s something very special and raw about taking things back to basics sometimes.

THIS WON'T BE YOUR FIRST CONCERT SO YOU PERFORMED BEFORE AT 'PIZZA ON THE PARK' SERIES... HOW DO YOU FEEL PERFORMING IN A SOLO CONCERT?
I have done a few concerts on my own at Pizza In The Park and also Madame Jojos. It takes a long time to put them together and can be quite stressful deciding on songs, sorting the music out, then there´s the venue but on the night I always have the best time! I have wonderful fans, friends and family who are always there to support me and the second I get singing the nerves go away.

YOUR SOLO ALBUM 'YOU AND I' WAS RELEASED IN 2005. WHAT DOES IT MEAN THIS ALBUM TO YOU? WOULD YOU LIKE TO RECORD A NEW ALBUM?
My album ´You and I´ is very special to me, I recorded it a while ago in 2005 and decided I wanted a very simple album, just my voice and a piano and I think it worked. All of the songs were favourites of mine during my time at college and so they all hold special memories. My favourite song on the album is probably either "You and I" or "I´ll Forget You" I sang them over and over at college!! I´d love to record a new album next year so watch this space!

YOU ARE PERFORMING GLINDA IN 'WICKED' SINCE LAST MARCH. HOW WOULD YOU ASSESS YOUR EXPERIENCE IN THIS SHOW SO FAR?
I am having an incredible time playing Glinda in WICKED. It is an absolute dream to perform such a fun role every night. There is so much more to her than meets the eye. Although she seems tactless and spoilt she has a heart and learns so much about life and friendship throughout her journey. I´m still pinching myself that I´m actually in WICKED!!

WHAT DO YOU ENJOY MOST OF PERFORMING IN THIS SHOW?
There are so many wonderful moments throughout the show. I guess "Popular" has to be a stand-out moment and "For Good", it wraps up Glinda and Elphaba's feelings and how much they have both been through.

A YEAR AGO YOU AND RACHEL TUCKER WERE PERFORMING IN 'SO JEST END' A SKETCH RELATED TO 'WICKED'. DO YOU BOTH REMEMBER THIS SKETCH NOW THAT YOU'RE REALLY PERFORMING GLINDA AND ELPHABA IN THE SHOW? WHAT DOES IT MEAN TO YOU WORKING NOW TOGETHER IN 'WICKED'?
Rachel and I performed together in SO JEST END which was hilarious to say the least!! We had a brilliant time and the fact that we did a spoof of Wicked and then went on to actually play these roles makes it an even better experience. We look back on that time a lot....and laugh about it a lot!

YOU HAVE WORKED IN SHOWS AS 'EVITA', 'CATS', 'GUYS AND DOLLS'... IS THERE ANY OF THEM THAT MAKE YOU FEEL SPECIALLY PROUD OF HAVING TAKEN PART OF IT?
I feel very proud of each and every show I´ve done and every role I´ve had the pleasure of playing. I think GUYS AND DOLLS will always hold very special memories, I got to play Miss Adelaide opposite Patrick Swayze who was an absolute dream, such a kind, generous and funny gentleman. The cast were all very close and the Donmar production was pure class, I really loved that show...bring it back!!!!

COULD YOU COMMENT ON YOUR PROJECTS?
There are so many things I have yet to achieve and different areas Ii want to explore. Theatre will always be in my heart but there is a whole world out there and I´d like to see where else my career can take me.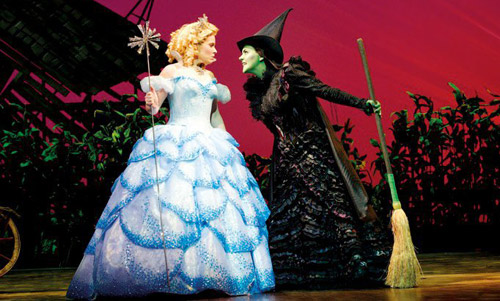 Louise Dearman (Glinda) and Rachel Tucker (Elphaba) in WICKED
Enlaces de Interés
Información Relacionada