entrevistas
[ Volver al artículo en castellano ]
Tamsin Carroll: "OLIVER is so steeped in English tradition and its home is London"
20/05/2009
The Australian actress alternates with Jodie Prenger in the role of Nancy in the new revival of OLIVER! that opened last January in the Theatre Royal Drury Lane.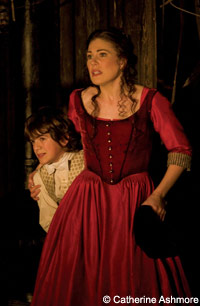 The new revival of OLIVER! is one of the most succesful musicals in the West End nowadays. There was so many expectation before its premiere that it turned into the Show with major number of early sale of income.
Co-directed by Rupert Goold and Matthew Bourne -also the choreographer- Jodie Prenger heads the cast of this production as Nancy. At her side, Rowan Atkinson, the intimate Mr. Bean, comes back to the stages after 20 years away from them to give life to a grim and, simultaneously hilariously, Fagin.
Alternating together with Prenger in the role of Nancy there is the Australian actress Tamsin Carroll, who already performed this character in her hometown when she was only 22, which led her to win different Theatre Awards.
Tamsin Carroll tells us about her West End debut in this production that will surely stay a long time in the West End.
HOW WOULD YOU DESCRIBE THE CHARACTER OF NANCY? WHAT DO YOU LIKE THE MOST ABOUT HER?
Nancy is a feisty, passionate working girl. I love her bravery and her loyalty.
YOU HAVE PLAYED THE ROLE IN AUSTRALIA. WHAT DOES IT MEAN TO YOU TO PERFORM NANCY IN THE WEST END?
Performing in the West End is a dream come true in itself, but there is something very special about this show at Drury Lane. OLIVER is so steeped in English tradition and its home is London. I think the public are very aware and proud of this.
ARE THERE ANY DIFFERENCES BETWEEN YOUR PREVIOUS "NANCYS" IN OTHER PRODUCTIONS AND THE CURRENT ONE?
I was younger for a start! I think this Nancy is different in subtle ways. Jodie Prenger has done an amazing job creating her for this production and I have therefore been able to see and play Nancy in a different light. She is more real and earthy this time.
ROWAN ATKINSON IS PERFORMING FAGIN. WHAT DO YOU THINK THAT MR. ATKINSON HAS CONTRIBUTED TO THE CHARACTER?
Rowan is a true master of his craft. To praise his comedic timing and invention is a given, but his Fagin is so moving and complex. He is dark and playful, making you despise him and then feel sorry for him in one breath.
YOU ALTERNATE THE ROLE OF NANCY WITH JODIE PRENGER. WHAT COULD YOU TELL US ABOUT HER?
I am Jodie's biggest Fan! I have rarely met a more genuine, warm, bighearted, multitalented, glamorous and hard working woman. I'm convinced she will rule the world one day.
IN 'OLIVER!' THERE ARE MANY CHILDREN ACTORS PLAYING HOW IT IS WORKING WITH THEM?
The kids teach me so much! It is so wonderfully fresh to work with them. They are fearless and constantly inventing. They hold the joy all the time. A good lesson.
YOU HAVE BEEN IN MUSICAL PLAYS IN MANY COUNTRIES AROUND THE WORLD. WHAT HAVE YOU LEARNT FROM WORKING IN SUCH DIFFERENT PLACES?
Styles vary immensely around the world. I have always been surrounded by people with great passion and pride in the arts, no matter what country I have worked in. Some audiences express themselves differently, but most are enthusiastic.
OF ALL YOU WORKS IN MUSICAL THEATRE AROUND THE WORLD, WHICH ONE HAVE YOU ENJOYED THE MOST? DO YOU KEEP SPECIAL GOOD MEMORIES OF ANY SPECIFIC SHOW?
Would it be corny to say this one? It has meant the most personally. A combination of huge personal challenge, a brilliantly written show and a company of devoted, supportive and loving people, makes for incredible memories.
YOUR FATHER IS ALSO AN ACTOR, SO SINCE YOU WERE A CHILD YOU HAVE KNOWN THIS WORLD. HAVE YOU ALWAYS KNOWN THAT YOU WANTED TO BE AN ACTRESS? WHAT DO YOU LIKE MOST OF WORKING IN MUSICAL THEATRE?
I am one of the very lucky few who knew from the start what they wanted to do. I'd like to say it was a toss between neuro-science but I'd be lying. Musicals are so 'theatrical'. They have the capacity to make people emote in ways they don't usually allow themselves. It's very powerful, even when it's purely for entertainment.
YOU HAVE WORKED IN THREE SONDHEIM MUSICALS IN AUSTRALIA: 'INTO THE WOODS', 'A LITTLE NIGHT MUSIC' AND 'COMPANY'. HOW WAS YOUR EXPERIENCE IN THESE SHOWS? DO YOU ADMIRE HIS WORK IN A SPECIAL WAY?
Sondheim is like the Shakespeare of Musical Theatre and I would love to work my way through as many of his shows as possible. He writes with such accuracy and depth into relationships and personalities and he has a sensational sense of humor. He writes musical/songs for actors!
Información Relacionada