noticias
Se edita el álbum del elenco original de Londres de CHARLIE AND THE CHOCOLATE FACTORY
25/09/2013
El Cd del nuevo musical escrito por Marc Shaiman y Scott Wittman basado en la popular novela de Roald Dahl y protagonizado por Douglas Hodge sale a la venta el 7 de octubre de 2013.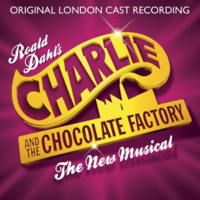 El álbum del elenco original de Londres del nuevo musical CHARLIE AND THE CHOCOLATE FACTORY, formado por un total de 27 temas, saldrá a la venta el 7 de octubre de 2013.
Basado en la novela homónima de Roald Dahl, el nuevo musical CHARLIE AND THE CHOCOLATE FACTORY está dirigido por Sam Mendes y cuenta con libreto de David Greig y nuevas canciones de Marc Shaiman y Scott Wittman. El espectáculo se estrenó oficialmente en el Theatre Royal Drury Lane del West End de Londres el 25 de junio de 2013, tras iniciar funciones previas el 22 de mayo.

El elenco de CHARLIE AND THE CHOCOLATE FACTORY está liderado por Douglas Hodge como Willy Wonka junto a Nigel Planer como Grandpa Joe, Clive Carter como Mr. Salt, Jasna Ivir como Mrs. Gloop, Paul J. Medford como Mr. Beauregarde, Iris Roberts como Mrs. Teavee y Myra Sands como Grandma Georgina.

Respecto a los pequeños, el personaje de Charlie Bucket se lo alternan: Jack Costello, Tom Klenerman, Isaac Rouse y Louis Suc; el de Augustus Gloop: Harrison Slater, Jenson Steele y Regan Stokes; el de Veruca Salt: Polly Allen, Tia Noakes y Ellie Simons; el de Violet Beauregarde: India Ria Amarteifio, Adrianna Bertola, Jade Johnson y Mya Olaye; y el de Mike Teavee: Jay Hayman, Adam Mitchell y Luca Toomey.

También están en la compañía Joe Allen, David Birch, Michelle Bishop, Mireia Mambo Bokele, Matthew Clark, Alex Clatworthy, Jennifer Davison, Luke Fetherston, Nia Fisher, Kate Graham, Clare Halse, Mark Iles, Daniel Ioannou, Kieran Jae, Jane McMurtrie, Natalie Moore-Williams, Sherrie Pennington, Damien Poole, Paul Saunders, Jack Shalloo y Jay Webb.

El protagonista de la historia es Charlie Bucket, un niño muy bueno de una familia muy pobre, quien gana un concurso, junto a otros cuatro niños de diferentes partes del mundo, para disfrutar de una visita durante todo un día a la gigantesca fábrica de chocolate dirigida por el excéntrico Willy Wonka y su equipo de Oompa-Loompas. La fábrica se parece a un mundo fantástico y mágico lleno de diferentes sabores, todos muy dulces.

El libro 'Charlie and the Chocolate Factory', escrito por Roald Dahl, fue publicado en 1964. Ha sido adaptado a la gran pantalla en dos ocasiones, con las películas 'Willy Wonka & the Chocolate Factory' en 1971, dirigida por Mel Stuart y protagonizada por Gene Wilder; y 'Charlie and the Chocolate Factory' en el 2005, dirigida por Tim Burton y protagonizada por Johnny Depp.

El listado completo de temas del álbum 'CHARLIE AND THE CHOCOLATE FACTORY - The New Musical (Original London Cast Recording)' es el siguiente:

1. Opening
2. Almost Nearly Perfect
3. The Amazing Fantastical History Of Mr. Willy Wonka
4. A Letter From Charlie Bucket
5. News Of Augustus
6. More Of Him To Love
7. News Of Veruca
8. When Veruca Says
9. News Of Violet
10. The Double Bubble Duchess
11. News Of Mike
12. It´s Teavee Time!
13. If Your Mother Were Here
14. Don'cha Pinch Me Charlie
15. It Must Be Believed To Be Seen
16. Strike That, Reverse It
17. The Chocolate Room
18. Simply Second Nature
19. Augustus' Downfall
20. Auf Wiedersehen Augustus Gloop
21. Gum!
22. Juicy!
23. Veruca's Nutcracker Sweet
24. Vidiots
25. Pure Imagination
26. A Little Me
27. It Must Be Believed To Be Seen (Reprise)
Enlaces de Interés
Información Relacionada
Comentarios
Para poder añadir comentarios necesitas autentificarte como usuario registrado de todoMUSICALES.