noticias
Se anuncia el reparto que estrenará la gira británica de 9 TO 5 THE MUSICAL
14/08/2012
Natalie Casey, Jackie Clune, Bonnie Langford, Amy Lenox y Ben Richards protagonizarán el musical de Dolly Parton que se podrá ver en el New Wimbledon Theatre de Londres del 22 al 27 de octubre de 2012, dentro de la gira que comenzará en Manchester.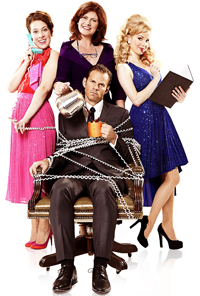 Se ha anunciado el elenco que protagonizará la primera parte de la gira del musical de Dolly Parton 9 TO 5: THE MUSICAL que se estrenará en el Manchester Opera House el viernes 12 de octubre de 2012 y se podrá ver en el New Wimbledon Theatre de Londres del 22 al 27 de octubre de 2012.
El reparto estará liderado por Natalie Casey como Judy Bernly, Jackie Clune como Violet Newstead, Bonnie Langford como Roz Keith, Amy Lennox como Doralee Rhodes y Ben Richards como Franklin Hart.
La compañía también incluirá a Andrew Waldron, Ashley Andrews, Gemma Maclean, Hayley Ainsley, James Lacey, Lauren Stroud, Lisa Bridge, Lori Haley Fox, Mark Willshire, Marlon Moore, Nyroy Dixon, Persephone Fitzpatrick, Peter McPherson, Philip Bertioli, Sasi Strallen, Sinead Kenny y Tom Andrew Hargreaves.

Natalie Casey es popular en el Reino Unido por el personaje de Donna en la serie de la BBC 'Two Pints of Lager and a Packet of Crisps'. En el escenario ha participado en la producción del West End de LEGALLY BLONDE THE MUSICAL, dando vida a Paulette; 'The Invisble Man' en la Menier Chocolate Factory; OKLAHOMA en el Festival de Chichester; 'Well' en el Apollo Theatre y FAME en el Shaftesbury Theatre. Actualmente interpreta a Ange en 'Abigail's Party' en el West End. Entre sus créditos televisivos se encuentran 'Missing', 'Hollyoaks' y 'Girls Night'; y en cine interpretó a Shirley Temple en 'Chicago Joe and the Showgirl'.

Jackie Clune interpretó a Mrs. Wilkinson en la producción del West End de BILLY ELLIOT y a Donna en la gira internacional de MAMMA MIA!.

Bonnie Langford cuenta con una extensa carrera en el West End, habiendo dando vida a personajes como Roxie Hart en CHICAGO –personaje que también interpretó en Broadway– y Charity en SWEET CHARITY. Formó parte del elenco original de CATS. Actualmente interpreta a Lady of the Lake en SPAMALOT en cartel en el West End, tras la gira británica del musical.

Amy Lennox participa actualmente en SOHO CINDERS, en cartel en el Soho Theatre de Londres. Interpretó a Elle Woods en la gira británica de LEGALLY BLONDE; y a Liesl en THE SOUND OF MUSIC en el London Palladium.

Ben Richards es conocido en el Reino Unido por su interpretación de PC Nathaniel Roberts en la serie 'The Bill' y de Bruno Milligan en 'Footballer's Wives' de la ITV. Su último trabajo en el West End fue el personaje de Tick en PRISCILLA QUEEN OF THE DESERT THE MUSICAL. Además, ha interpretado los personajes de Sky Masterson en GUYS AND DOLLS en gira y en el West End, Danny Zuko en GREASE en el Victoria Palace Theatre y en gira, Tony Manero en SATURDAY NIGHT FEVER en el London Palladium y en gira, y Jerry Lukowski en THE FULL MONTY en el Prince of Wales Theatre.

Con canciones de Dolly Parton y libreto de Patricia Resnick, 9 TO 5: THE MUSICAL se estrenó en Broadway en abril de 2009, permaneciendo en cartel durante cinco meses.

La trama de 9 TO 5: THE MUSICAL es la misma que la de la película en la que se basa, que en España recibió el título de 'Cómo eliminar a su jefe': Tres secretarias de una importante empresa trabajan bajo las órdenes de un jefe machista, despótico y egoísta. Todas ellas sueñan con vengarse de él, y finalmente les llega la ocasión. El filme de 1980 estuvo protagonizado por la misma Dolly Parton, Jane Fonda y Lily Tomlin. Para la ocasión, Parton escribió la canción principal de la película, con el mismo título de la misma. El tema se convirtió en uno de los éxitos más grandes de su carrera y le valió una nominación a los Oscar de Hollywood en la categoría de Mejor Canción Original. Además de la canción original de la película, el musical también incluye veinte nuevas canciones escritas por Dolly Parton.

Con más de 100 millones de álbumes vendidos, Dolly Parton es una de las grandes estrellas de la música de todos los tiempos. Como compositora ha escrito más de 3.000 canciones, entre ellas el éxito popularizado por Whitney Houston "I Will Always Love You".

9 TO 5: THE MUSICAL está dirigido por Jeff Calhoun, quien ha dirigido la última producción de Disney en Broadway, NEWSIES. Calhoun ya dirigió y coreografió la producción de gira por Estados Unidos del musical, estrenada en septiembre de 2010 y concluida en julio de 2011. El montaje de Broadway estaba dirigido por Joe Mantello.
Enlaces de Interés
Información Relacionada
Comentarios
Para poder añadir comentarios necesitas autentificarte como usuario registrado de todoMUSICALES.